Melmyn Gold is two component Polyester based, acid cure wood finish for Interiors offers a hard, high solids film build with excellent Gloss and clarity. It has been formulated with Non-yellowing and mar resistance properties as well as greater resistance to water, alcohol, food acids, commercial maintenance / cleaning products and household cleaning products.
Recommended use:
High end kitchen cabinetry, bathroom vanities, table tops, dining and bedroom furniture, millwork, office furniture and store fixtures.
Available packs: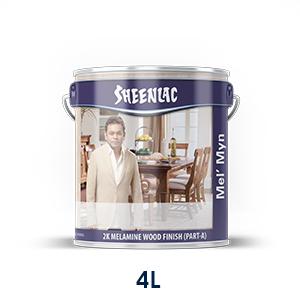 Product features:
Quick drying and good stackable Nature: These properties make Sheenlac's Melmyn Gold Finish a preferred choice for high productivity area.
High gloss retention: Due to its superior surface build, the gloss levels do not sink, fade and dull out. This retention of gloss showcases the furniture as a new one for longer periods.
Non-yellowing: The special polyester formulation in the Melmyn Gold finish resists yellowing for a longer duration.
Durability with smooth finishing: The film produced by the Melmyn finish is hard and hence can withstand rough work on its surfaces.
Resistance to water and household chemical: It is an excellent choice for commercial and household furniture due to the water-resistant property of the finish.
A self-sealing product: Melmyn Gold Finish has been formulated as a self-sealing product and therefore no separate sealer is required.