Make your wood shine! Get that coveted sparkling beauty with gorgeous glossy or matt finish by using Sheenlac's Melmyn interior finish on wooden surfaces.
Recommended use:
Melmyn works wonder on high-end kitchen cabinetry, bathroom vanities, table tops, dining room furniture, bedroom furniture, millwork, office furniture and store fixtures.
Available packs: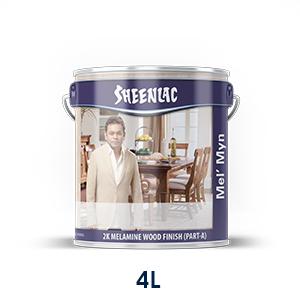 Product features:
Quick drying and good stackability: makes it a better choice for high productivity area.
Good yellowing resistance with high gloss retention: Due to its superior surface build, the gloss levels are maintained for long.
Excellent durability with smooth finishing: Film is hard and flexible and withstands to many abuses.
Excellent resistance to water and household chemical: Ideal choice for commercial and household furniture.
Melmyn has been formulated as a self-sealing product: No separate sealer is required.
Excellent pot life properties: make for easy application and reduce wastage costs from product going off.